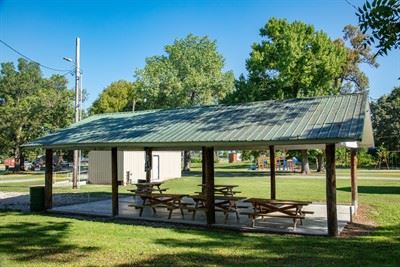 A favorite of active citizens, Carter Park features a continous asphalt trail throughout the park that's great for walking and emerging bike riders. The park has rest benches around the trail, a playground for kids, a large field, convenient restrooms, and one large and three smaller shelters. All the buildings have electricity and picnic tables. The three smaller pavilions are Carter Shelter, River Shelter, and Chestnut Pavilion; each can accommodate four picnic tables to seat twenty-four people comfortably. The larger pavilion, John Addison Shelter, can fit five tables with thirty people seated. Shelter reservations are available if you want to host an event for the day. Unreserved shelters are on a first come, first served basis. Contact the Parks Department for more information at 417-237-7035.
Futsal is very popular in this park. Like soccer, Futsal involves five players on two opposing teams. The game is mainly played in an enclosed court to keep the ball in the game. The Futsal courts are surrounded by tall chain-link fencing, making it ideal for the game. LED lights cover the court and help illuminate the park from dusk to dawn.
Carter Park is located next to the Battle of Carthage State Park and was one of the locations of the last battle fought in the Civil War in Carthage. Widely known as the Carthage Tourist Park in the 1920s and 1930s, it's a frequent stop for Route 66 travelers. Carter Park was gifted to the city by a resident, John Addison Carter. The Carters came to Carthage in 1865, and he became the wealthiest pioneer physician around the county, owning an abundance of land around the city and other parts of Jasper County.