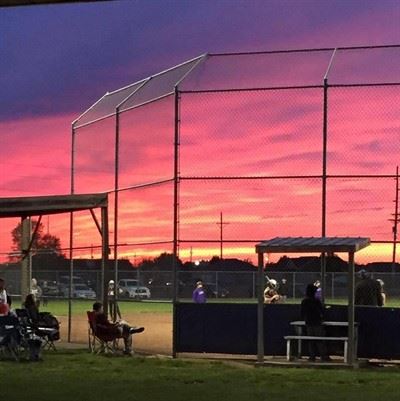 Created for community recreation and team play, Fair Acres Park has baseball and softball fields. The fields are available to community teams and available for rent. The Carthage Youth Softball and Carthage Youth Baseball Leagues primarily utilize the fields during the spring and summer months.
Softball
Youth Softball ages go from T-ball to the Senior League. Youth Softball uses fields number one through four. T-ball and up typically play on fields two through four, and the Senior League plays on field one. Each team has their own color of shirt that the players wear for uniforms and show their sponsor. Different local businesses sponsor the leagues.
Baseball
Youth Baseball is similar; the uniforms are jersey T-shirts that players wear during the games. Baseball teams play in the fields opposite of the softball fields, fields five through nine. There are five baseball fields for the different age groups. The baseball fields are customized to size depending on the age group, starting from T-ball to the Senior League. For more information on each team or to register, visit the Carthage Youth Baseball website.
Soccer
Four soccer fields and two utility fields are available for soccer and practices for football. Carthage Parks & Recreation schedules youth sports for the fields, including outdoor soccer and flag football.
Other Amenities
A one-mile walking path surrounds the ball fields. The pathway lights up with LED lights for visitors at night. Along the walking trail, workout equipment is available for guests to stop, stretch and change up their routine. Water fountains are also available for people and pets in an animal-friendly environment. Restrooms are available during high-traffic events and seasonal team play. They are locked for daily use.
The restrooms are available during the season for sports. Teams are responsible for locking up after the games, cleaning the bathrooms, and making sure facilities have supplies. Contact the Parks Department for more information; call 417-237-7035.