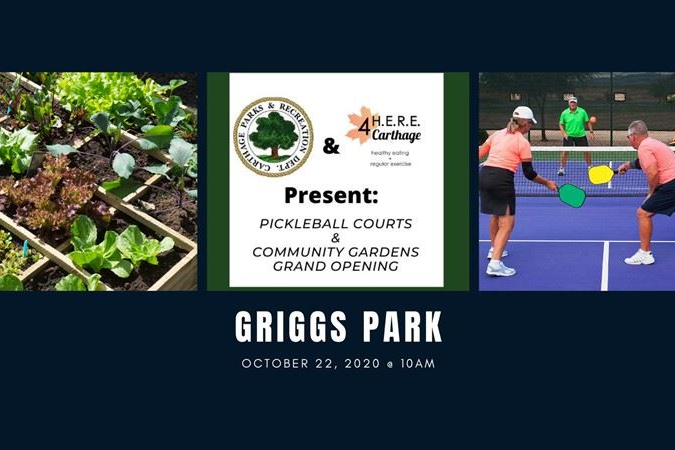 Located in the middle of town on Centennial Avenue, Griggs Park is a popular park for leisure visitors and walking traffic. The park has a skate park for the skateboarders and a brand new pickleball court completed in October 2020. Players can pick from eight courts with LED lights to surround the Pickle Ball Courts after dark and to provide illumination that times the lights for 30 minutes. A button is available to push to extend the lighting for extended play.
Griggs Park also has playground equipment, a basketball court, and restrooms within walking distance of all the amenities. Giant umbrellas shade picnic tables close to the playground equipment. The shaded tables are excellent for families to sit down during the summer and enjoy watching kids play on the playground equipment in front of the tables.
HERE 4 You, a project of the Carthage Community Foundation, will newly open a Community Garden to the public to rent in Spring of 2021. Guidelines for the Community Gardens are released each upcoming season. The opening season for the new gardens will be from March to November of 2021. The weather will determine the exact dates. Gardeners and families may only reserve one bed at a time. If there are free beds available, you can put your name first on the list.
No Shelters are in this park currently. Reservations are typically not made here with the absence of proper sheltering.