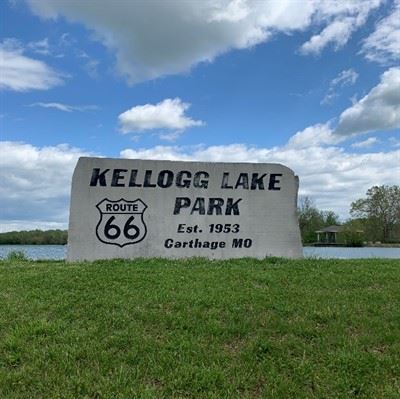 Kellogg Lake is a beautiful place for people to enjoy a full day of activities outdoors. Individuals can kayak in the lake or river, families can fish along the banks, students can discover nature in the outdoor classroom, and groups can enjoy disc golf on a full course. There are two shelters available for reservations around the park.
The biggest shelter sits right on the lake, Lake Pavilion. The second and smaller shelter sits right on the riverside, River Pavilion. This shelter only fits one table and is not available for reservations. It is first-come, first-serve. The Kellogg Lake Board contributed to the making of the new small shelter. Fishing is one of the top activities that draw people to Kellogg Lake. The lake has an adequate supply of largemouth bass and channel catfish, but fishing fans also find black bass, white bass, sunfish, crappie, and other types of catfish. The lake sits beside Spring River that flows on the park's borderline. Two boat accesses are located on the lake and river to put a boat in. Kellogg Lake allows overnight fishers to stay past curfew with an overnight fishing permit issued by the Parks Department.
Kids Fishing Day is a popular event held near the beginning of June each year. Families can bring their kids and fish in Kellogg Lake to get a few sizable fish that the kids can keep. The Missouri Department of Conservation (MDC) stocks the waters before the event and then closes the site for a guaranteed catch. MDC completes the day by providing a few supplies, additional educational displays, and prizes for the event. Participants should bring a fishing pole and tackle box.
Kellogg Lake has a panoramic view of the outdoor classroom. Occupied more during the warmer seasons, classes can come out and learn while being outdoors. Sponsored by the Carthage Public Schools, this makes a great area to learn sciences or art.
A 18-hole Disc Golf Course wraps around the 22-acre park. To make reservations for disc golf, outdoor classroom, outdoor firepit, or the Lake Pavillion, call the park office at 417-237-7035.