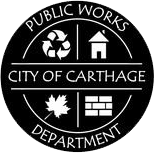 Welcome to Public Works! Our department encompasses many services in Carthage. We have worked diligently to provide you with as much information as we can to help you with our services.
Our Department is responsible for the daily operations of the Street Department, Building Code Inspection, Code Enforcement (Property Maintenance and Nuisance Abatement), G.I.S. Mapping, and the Recycling Center. We also play a role in Floodplain Administration, Stormwater, Sediment, and Erosion Control practices on behalf of the City and varied Capital Improvement projects.
The Public Works Department is dedicated to promoting the health, safety, and well-being of all our residents. All of us in the Public Works Department are committed to ensuring that all projects we undertake are delivered with quality, on time, and on budget.